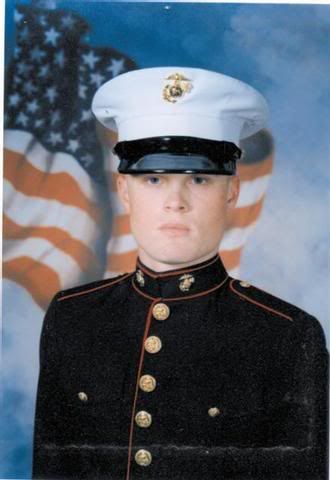 United States Marine Corps Corporal Matthew Conley was killed in Iraq on February 19, 2006.
In
Bedtime Stories for Catherine,
Wright Thompson of ESPN.com offers a beautiful tribute to Cpl. Conley, his family, and his community. Please read it all.
When the Marines brought Matthew home:
Someone donated limousines for the family. The sheriff met them at the funeral home. He led them on the long drive across the state of Alabama, lights flashing. Something amazing happened along the way. At every county line, other sheriff's deputies waited in their cars, ready to escort the Conleys, blue lights on, all traffic stopped. Nothing was interfering with their awful journey
that night, from Lauderdale County to Lawrence County, then on to Limestone and, finally, Madison. All along the way, people lined the roadside, waving American flags. When the sun went down, they shined flashlights on the stars and stripes, so that the only things the Conleys saw blazing across northern Alabama were small circles of light with flags inside.


When they reached I-65, Alabama state troopers blocked off the interstate, clearing the way. Marines loaded the casket into the hearse and then the procession turned around.


It was time for Matthew to come home to Greenhill.



Words fail me. We can never, ever repay fine men like Matthew Conley for the sacrifice they've made on our behalf. We can only do our best to honor them by holding their memories dear.