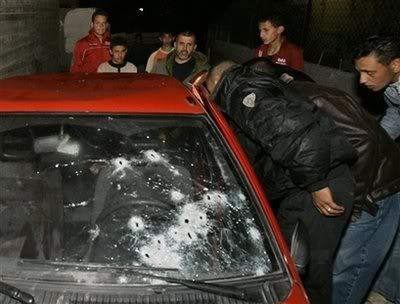 Fatah operative
Muhammad Shehadi,
suspected mastermind of last week's
Yeshiva murders,
assumed ambient temperature today after a brief encounter with an unspecified number of "IDF forces." Fatah and PA leader
Mahmoud Abbas
denounced Israel's action as a "barbaric holocaust...perpetrated against our people, our women and children in Gaza." Fatah's primary benefactor, the U.S. State Dept, could not be reached for comment
(ok, I made that up).
Congratulations IDF--you rock!
Update:
Ynet
describes Shehadi as a member of Islamic Jihad who
used
to be a Fatah member.